<![if !IE]>
<![if !IE]>
<![endif]>
SERVICES
Providing "Quality Service is What We do Best". Even if you're just in
the planning stages, or you are ready to implement a solution, we're ready
to help you!
We'll gather up all the informations you need to ensure a successful
project. We ensure that your cost estimates are complete, providing you
the necessary informations for budgeting and requisitions.
When it's time to purchase, we'll double-check to make sure you take advantage of any current specials offers and price reductions, providing
you with the lowest prices available. We'll provide precise configurations
for your system and printing solution projects, ensuring compatibility and providing options for growth. We will also provide you with information on options available to you that can provide scalability and economy.
Would you want to have SEComp's Engineering services, or would you
rather only have our engineers install your hardware? It's your choice - we'll gladly provide quotes as needed. With us, you're not locked-in to a
singular solution. We provide the benefit choice so you'll have "Flexibility When You Need It, Where You Need It".
Need a repair quote to help you decide whether it's worth fixing? Just
Contact Us for a free estimate.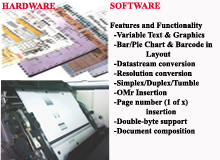 News and Offers
See all news >>
OCE Page Stream.
NOW FREE!!!
(Printer usage charge only)
Contact Us >>
See our LIVE ROOM Demo
See more >>